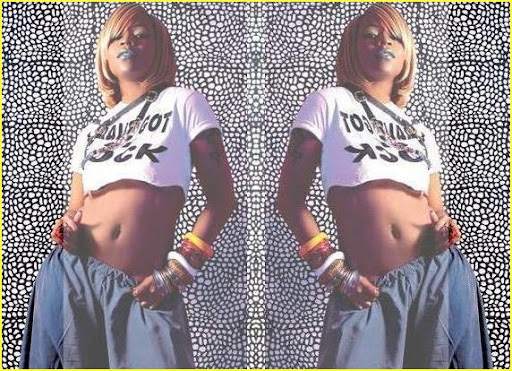 BODY OF WORK:

"My eyes are now open to certain things."
Slow and steady is perhaps the most apt description for how Raine Seville chooses to approach life in the music biz. But don't interpret that to mean the girl hasn't been making purposeful strides. When she isn't making magic in the studio with the likes of Sean Paul (Material Riddim Medley), Mavado ("Cheating Games") and most recently ZJ Liquid ("Rememba"), the sexy 25-year-old singer/singjay is prepping for star-making performances like her upcoming stint on Reggae Sumfest, alongside Trey Songz and Shabba Ranks.

TALLAWAH

chats with a fast-rising star:
TALLAWAH: Raine, people are expecting you to deliver like never before when you hit that stage at Catherine Hall come July 20. What can we expect?
Raine Seville: I'm planning a great show (

Laughs

). It's my first time on the Sumfest mainstage and it allows for more creativity and the addition of more things to my performance whereas the

Digicel

stage was much smaller so I couldn't do much. But now I'll have my dancers and some props. I don't want to give out much info, but the people can expect something special.
In your own words, how has music changed your life?
It's something that I really, really love and what I've always wanted to do as a career. So when I see that my music is influencing many others all over the world, it is inspiring and motivating to me.
Recently, Diana King confirmed the lesbian rumours that have dogged her for years, and this week both Anderson Cooper and Frank Ocean officially came out as gay men. What does this trend say about what's currently happening in the world?
You know what, people feel more free to express themselves because at the end of the day public figures also have private lives. And sometimes because of the pressure of public life you might be scared to say or do certain things. But there is more freedom now and for that reason we are expressing ourselves more without fear.
What's your view on D-Major as a mentor on

Digicel Stars

?
In my opinion it's a good decision because D-Major is very talented and he's very familiar, and his music reflects a lot of R&B and soul. So I think it's a good choice.
You are yet to put out a first album to properly introduce yourself to the world. How come?
I am still working on brand Raine Seville. I don't think I have truly discovered myself yet, in terms of my capabilities and my diversity and appealing to a greater portion of the map. So I am still working on that, and as soon as I feel I have reached that point then I will focus on an album. Definitely not for 2012, but hopefully around the middle of next year.
Today, in addition to being a recording artiste and a songwriter, you're the mother of a young daughter. How do you feel about the woman you're becoming?
I am very pleased with myself, and I do have a lot to learn. Raine Seville in 2009, when I just came out, as opposed to Raine Seville now, there is a lot of growth. My eyes are open to certain things. I understand the business more because I actually entered it a bit naïve. Now I'm more hands-on with my writing and I'm singjaying a lot. I definitely have more knowledge.
Tweet
Follow @TALLAWAHezine